Acid Reflux, Gastro Esophageal Reflux Disease, Heartburn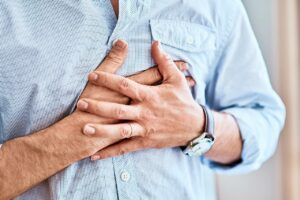 What is acid reflux (GERD)?
Acid reflux, or Gastro-Esophageal Reflux Disease (GERD), is a painful and worrisome condition that occurs when the liquefied contents of your stomach back up into your esophagus. The liquid usually contains bile, acid, and pepsin, which burn and irritate the esophagus.
What causes acid reflux?
Acid reflux may be caused by a number of different things.  Often it found that there is low pressure of the muscular valve in the lower part of the esophagus (lower esophageal sphincter).  Some people have a hiatal hernia, which is when the top of the stomach intermittently slides into the chest. Increased intra-abdominal pressure clearly is a significant cause of GERD.  Obese and morbidly obese people have significantly increased intra-abdominal pressure, and most have reflux disease. Much of the time several of these problems contribute to GERD.  Many times patient aren't aware that laparoscopic surgery can possibly allow them to get off of daily prescription medications for their reflux.  Minimally invasive surgery with an over night stay can allow patients to get off their medication.
How does being obese or overweight contribute to acid reflux?
Excess weight is a leading contributor to the development of acid reflux. Research shows a close correlation between the rise in a person's BMI and an increase in acid reflux and related symptoms and complications.  Part of effective treatment of GERD in obese patients is significant weight loss, which is best accomplished with weight loss / bariatric/ metabolic surgery. Increased intra-abdominal pressure also contributes to urinary stress incontinence, abdominal wall hernias, high blood pressure, and pseudotumor cerebrii.
What are the symptoms of acid reflux?
Acid reflux has several symptoms and signs, such as:
Heartburn (substernal burning chest pain)
Bad taste in the mouth (regurgitation of stomach contents)
Burning throat
Pain in your chest
Hoarseness, inflammation of the vocal cords (laryngitis)
Aspiration and Cough, especially night time cough.
Bronchitis
Barrett's esophagus (a worrisome change in the lining of the esophagus secondary to chronic GERD that is a risk factor for esophagus cancer.)
Esophagus stricture (difficulty swallowing)
Hiatal Hernia
Some people have a hiatal hernia, which is an enlarged opening in a weak diaphragm that allows the top of the stomach to slide into the chest.  When obese patients have weight loss /bariatric/metabolic surgery, if they have a hiatal hernia, it is repaired at the time of surgery. Many surgeons reinforce the diaphragm with biological mesh.
Anti-reflux procedures
If someone has a hiatal hernia and significant GERD and does not qualify for weight loss surgery, there is a laparoscopic procedure that creates a valve between the esophagus and the stomach using part of the upper stomach.  The hiatal hernia is repaired and the anti-reflux procedure is performed. These are called a Nissen fundoplication or the Toupet fundoplication procedure. Dr. Fermelia is an expert on this operation.
GERD in the morbidly obese (BMI > 35)
If someone has significant GERD and is morbidly obese, the correct minimally invasive operation is weight loss /bariatric/metabolic surgery, because anti-reflux surgery by itself does not help the patient lose weight.  Losing weight is necessary to decrease the intra-abdominal pressure that can be a major cause of GERD in obese people. The laparoscopic Gastric Bypass Roux-en-Y is the procedure of choice in most morbidly obese people because it is a low-pressure operation and it clearly makes the GERD go away (in addition to a number of other wonderful benefits).  If you have significant reflux and you are considering a Gastric Sleeve, speak to Dr. Fermelia and get some comprehensive advice.
If you have significant reflux, Barrett's esophagus, and esophageal reflux, if you want to get off of daily acid blocking medication:  whether you are overweight, obese, or normal weight, make an appointment with Dr. Fermelia.  If you have a hiatal hernia it can be surgically repaired.  It is a laparoscopic, minimally invasive solution with an overnight stay.
To alleviate acid reflux, call for an appointment today!