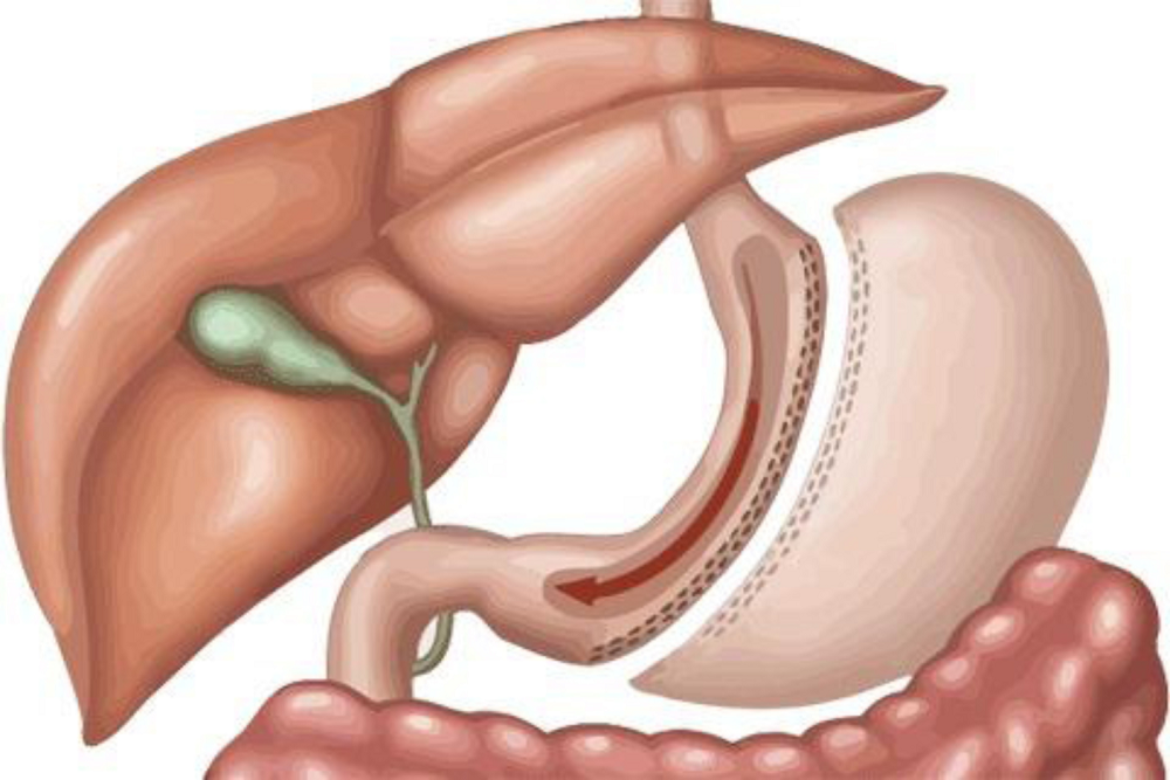 Gastric Sleeve
What is a gastric sleeve?
Gastric sleeve surgery offers effective long-term weight loss by restricting the amount of food your stomach can hold and by changing your metabolism. This is a laparoscopic, minimally invasive procedure.  Most patients go home within 24 hours of the surgery.  Dr. Fermelia makes a tube out of the stomach and removes about 2/3 of the stomach. The remaining stomach is about the size of a medium banana (100 to 150 ccs or 4-6 ounces).
Once Dr. Fermelia has reduced the size of your stomach, the new pouch holds a much smaller volume of food, ensuring you can only consume a certain amount of calories each time you eat. The new stomach is considerably smaller than your natural stomach, allowing you to consume smaller meals and fewer calories, yet still, be satisfied.  You will be satisfied with roughly 4 to 6 ounces of food with any given meal.  This will be with you for the rest of your life. The "pouch", or new stomach will NOT stretch out over time.
How does a gastric sleeve work?
Long-lasting metabolic changes are created by changing the way gastrointestinal hormones respond to the food you eat.   The most well known metabolic change accomplished in this procedure is a measurable drop in the primary hunger hormone, Ghrelin.  Ghrelin is made in the part of the stomach removed, therefore it makes sense that this hormone will drop the day of surgery, and it does. 
What are the benefits of gastric sleeve surgery?
Rapid Weight Loss:
The sleeve provides a temporary increase in metabolism that provides approximately 50 to 70% loss of Excess Body Weight in the first 6 to 9 months.  This weight loss is very predictable and Dr. Fermelia will help you calculate your weight loss at your first visit.  The rapid weight loss will naturally plateau at a more healthy weight at about 9 months to one year.  This early and significant weight loss will allow you to continue the preoperative work you have done in changing your long term diet to healthier foods.  The rapid weight-loss period of 6-9 months is characterized by very minimal hunger, despite the significantly fewer calories you take in.  This period will allow you, with personal dedication on your part, to change the way you eat long term in order to MAINTAIN your weight loss.  You will not maintain your weight loss without you changing your eating patterns and your activity/exercise patterns.  That is why metabolic surgery is much more than just a surgical procedure.  It is a catalyst for you to change your life.
Long Term Weight Loss:

 
The sleeve provides a long term weight loss, once again by creating a smaller stomach long term and by changing metabolism in the long term, by changing the way your gastrointestinal hormones work. If you change your eating patterns, eat healthy food, and maintain an increased activity and exercise lifestyle, you will remain successful.  We have great data that show we can maintain approximately 55 to 70% loss of Excess Body Weight with the Gastric Sleeve for 5 years and beyond.
No change in the intestines.  Sleeve surgery requires no redirection of your intestines.
No device is installed.  Sleeve surgery doesn't rely on foreign devices, like the gastric band, to achieve successful weight loss.  Foreign devices like the band can and quite often have mechanical problems and there is a fairly high reoperation rate.
Resolution (remission) in some very serious and difficult to manage life-threatening medical problems.  We call these the comorbidities of morbid obesity.  The surgical and medical literature clearly and definitively show that many of the problems that come with obesity not only are changed, but they are also dramatically changed.  If you don't have these problems yet, the gastric sleeve will help you avoid these problems in the future.
Does the gastric sleeve have any drawbacks?
Irreversible.  The gastric sleeve procedure is irreversible, so it's important to make sure that it is right for you before deciding to have this procedure. That's why Dr. Fermelia reviews your medical history, your needs, and your and expectations to help you determine if the sleeve is the best way to achieve your goals.  Think about it, your obesity problem is a lifelong problem and you need a lifelong solution.
Minimal Vitamin Deficiency Concerns.  Following a sleeve gastrectomy, you could experience persistent vitamin deficiencies due to the changes in the absorption of nutrients after Gastric Sleeve. You will remain safe if you follow our advice and take a daily multivitamin and take supplemental vitamin B12.  Women often will be advised to take extra iron and calcium, just as women without gastric sleeves should take.  You will be advised to follow up with Dr. Fermelia to make sure you don't run into vitamin problems in the long term.  Dr. Fermelia provides support and guidance in helping you create a new meal plan to accommodate your smaller stomach and get the nutrients you need.
GERD and Heartburn:  Patients with preoperative severe or moderately severe heartburn or gastroesophageal reflux, and patients with swallowing or esophagus problems may not be ideal candidates for the gastric sleeve.  Hiatal hernias are not a contraindication for a gastric sleeve operation or a gastric bypass operation.  In fact, a gastric bypass is an excellent choice for a patient with significant heartburn or GERD.
Risk of Operative Complications.  The good news is that Gastric Sleeve is a very safe procedure. 
Major complication rate is very low at 4.3%.  A leak of the staple line of the sleeve is possible even with the best surgeons and the best programs, but rare.  A large longitudinal study of 28,616 patients published in 2011, the incidence of leak after Laparoscopic Gastric Bypass is 0.8%. Laparoscopic Sleeve Gastrectomy 0.7%.  Open Gastric Bypass 1.5%.1 Laparoscopic bariatric/metabolic surgery is safer than open. 
The overall risk of mortality with metabolic surgery is 0.1%.  In comparison, here is an amazing statistic:  the mortality of gallbladder surgery is 0.7%, and the risk of mortality with hip surgery is 0.1%
The gastric sleeve is now the most popular bariatric / weight loss / metabolic procedure chosen by patients in the last couple of years.  Gastric sleeve is not for everyone but it may be the life-changing surgery you are looking for.
To learn more about the weight loss benefits of a gastric sleeve, schedule an appointment with Dr. Fermelia by calling Heartland Surgical today!